"I'm a holy fool / and a killer too / and I leave it all with you."

This uncomfortable line was the missing piece that completed the song's lyrics. When Amy brought it forward I loved it and I argued against it too. Not me. I'm not a killer. I'm a good guy. But even before the pandemic and the awakening to systemic injustice that started sinking in on a mass scale, living where I live, with the privileges I have, there are deep imbalances ever at play, built into the fabric of my existence here on this land. Amy was right. We have excess because others are treated as disposable. The condo towers that will soon block the sky view behind my house in Toronto are an ugly testament to how prioritizing economic growth often comes at the expense of life.
With the pandemic came the heavy responsibility that we could all be breathing death, literally. We were in Uruguay, March 2020, continuing the collaboration with Fernando and the crew of musicians he'd assembled there. The lockdown hit just a day after an amazing weekend of shooting live videos with a 7-piece ensemble and a film crew. Our little family bounced off the walls of my mother-in-law's apartment, where we were staying, in deep stress as flights got booked and canceled and we tried to make our way home. It was the turning point where bizarre terms like 'self-isolation' and 'social distancing' became common. When we finally made it home, we sat and waited in the limbo of our quarantined lives.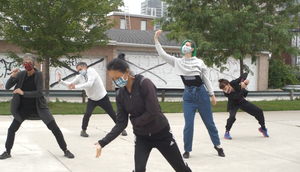 Carlos Coronado, the Toronto-based filmmaker we had started to work with, was creating a short documentary on the making of the album we'd begun. He'd sent us some slow motion footage through urban landscapes with Walls playing in the background. As soon as we saw it, Ximena and I agreed: Carlos should make a video for Walls. At the same time, as the streets sat empty and we all holed up in isolation, the lyrics to Walls seemed to take on a whole new meaning, eerily reflecting the experience of living through a global pandemic. We proposed the idea to Carlos, having no clue how we could make something like this in our separation. He came back with the concept of a woman walking through an empty city seeking connection in a time of isolation. He proposed Bryn Jennings, his partner, as the woman, so that they would be able to work together despite lockdown. And so the idea was born. In the back of my mind I wanted her to arrive somewhere, to meet up with people, to engage in a dance, to connect in a way we could connect for our time – fraught but somehow vindicating.
I have a long-standing love of contemporary dance. The dancers I've known throughout my life have been formative in my own creativity and have been guides to me within the challenges and delights of the physical world. Dance speaks to all levels of existence, managing to express both the emotional and the ethereal, all through the physicality of the body moving in space. To work with dance in this way was a dream that had not quite yet manifested. Considering the circumstances we were all in, it seemed impossible for this project. Nonetheless I proposed the idea to Carlos and Ximena and we set about finding the people.
One of the projects I had been involved with in 2017, as I slowly adapted to my recent deafness, was as a choral section leader in a contemporary dance piece by choreographer Denise Fujiwara. In it, she took a number of popular songs, sung by a choir, and set them to her powerful Butoh-informed contemporary dance. It was a lightbulb moment to experience this relationship of contemporary movement with popular song. She seemed like the perfect fit for Walls. I felt so grateful and humbled when I asked her to work with us and she said yes.
When we decided to move forward we were still in a fairly strict lockdown with both the promise of an opening up and a threat of a second wave to maneuver around. We had to be strict in our being together while following protocols to stop the spread. We took rehearsals outside with the ten-person team, and landed on our shooting day with a chilly, but gorgeous, sunny morning. I can't tell you how wonderful it felt to be doing something together, creating something together. Because the video would be in slow motion Denise had chosen an upbeat piece of rhythmic music to back the dance and keep people on pace, which kept an air of lightness at the forefront of our connecting.