In 2010, I went to my first Milonga (tango dance event), El Pisotón Tango Club in Montevideo. "El Pisotón" roughly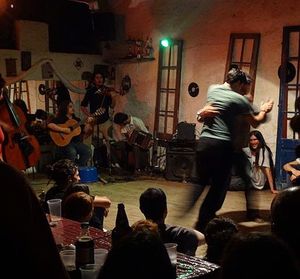 means "step on your toe". It was a humorous name to emphasize the informality of this Milonga, which Fernando, my now co-producer, was helping to organize. People wore jeans and sneakers and the dance floor churned with the focused, liquid movement of the tango. It was so exciting to me, this underground, living revival. A century-old tradition co-existing with the culture of the moment, free of artifice, stripped down to some kind of guttural cultural expression.
In 2009, Fernando introduced me to an album called "Bien Parejito" by a Montevideo group, Cuarteto Ricacosa.  It was tango in a modern day setting, an extension of the early musical tradition, played on four Spanish guitars and paired with some incredible songwriting.  Fernando and Ximena unpacked the lyrics in detail for me, enjoying their hilarious, familiar references. Like the traditional tangos of the 1930's, they were full of slang, talking about the underbelly of life with humour and pathos. There were songs about the trials of quitting smoking, the rise and fall of a weed dealer, the etiquette of passing joints.  The album was peppered with instrumentals as well, where the guitars just soared.  The sound was amazing.  I was in love with it.  We listened to that record a million times.  It was a similar feeling to discovering Abbey Road by the Beatles as a kid.
I wrote the tango "Come Back" one winter when Ximena and our daughter, Lou, were in Uruguay and I had decided to stay home to work on songs.  Lou was two years old and I was desperately craving un-interrupted creative work time.  However I missed them brutally and daily regretted not going.  While at home alone, missing the Uruguayan summer and my Montevideo friends and family, I got sucked in by too much social media on the brain. Certain pieces of awful news I couldn't shake off.  I wanted to purge.  But there was more than just the awfulness, I had moments where I obsessed over tiny houses, or the barter group Bunz Trading Zone. The name of the song also references "Volver", one of the most famous and intense tangos in the canon of the beloved singer Carlos Gardel, who wrote it with Alfredo Le Pera in 1934.  It's a classic.  Once we had dinner in a restaurant and a man with a guitar came by to sing to the patrons, and the whole place broke into song.  It seemed everyone knew every nuance of those poetic lyrics – of the pain of time and separation, the clinging to sweet remembrance, of wanting to return, carrying the ravages of time.
The music for Come Back was recorded last March, days before lockdown, at Montevideo's legendary Estudios Sondor, with Federico Brann and Fernando Rosa on guitars, Sebastián Mederos on bandoneón and Jorge Pi on bass. 
The video was shot in Montevideo by film-makers Magui Mieres and Nacho Elola.  The wonderful dancers are Pepe Ramallo, one of the organizers of Montevideo's Queer Tango Festival, and award-winning tango dancer Juan Macedo Mastrascusi. The video was conceptualized by Ximena Griscti and Carlos Coronado. Carlos also directed it remotely and edited it. 
In a way, this was our vicarious way to be in Montevideo during the pandemic.  We miss those familiar streets and it was so strange and lovely to see them again in this video.