Belleville rendez-vous hit the airwaves in 2003 with the release of the animated film Les Triplettes de Belleville. Living in Montreal, I could hear Matthieu Chedid (~M~)'s sweet voice singing it everywhere. It was the first time I'd heard a Django Reinhardt inspired guitar style as the basis for a huge mainstream hit, and the way it grew into its booming beat and harmonized chorus was so incredibly exciting. Coming back to this song twenty years later while circling into the world of Django's legacy of Jazz Manouche has been a delight. It surfaced in my consciousness as the perfect ode to growing old. I don't want to be the one who gets my skin stapled smooth pretending to be something I'm not. I want to be wrinkled and crooked and nasty and free, like the Triplets of Belleville. I had a blast creating my own harmony arrangement for the fictional chorus girls, and was encouraged by co-producer David Travers-Smith to take some bombastic risks in developing its trajectory. It's such a great tune, and also an international collaboration between Benoît Charest, Sylvain Chomet and ~M~.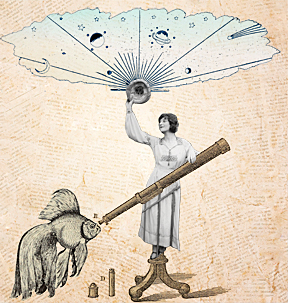 I did decide to change one lyric on the chorus.  I live in a Portuguese neighbourhood of Toronto and my lovely next door neighbour is known to our family as "Vovó" or Grandma.  Since the song seemed to have little to do with Haitian culture or traditions of Vodou, and more to do with rocking growing old, it felt like an appropriate update for 2021 to change that word in the chorus, all the while imagining a cancan performed by grandmas.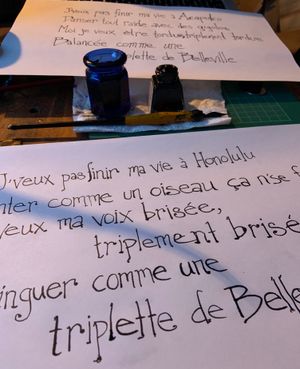 The video is based around collage ideas that Ximena Griscti started early on to visually support the themes of the upcoming album "String of Pearls" as they emerged. Ximena brought together her love of Dadaism (an anti-establishment art movement from the early 20th century) and punk rock, which parallel each other in their use of collage to re-contextualize imagery to create new, often subversive meanings. She included a visual nostalgia for eras that inspired the music with an eye for queer representation and a nod to Eduardo Galeano's wonderful "Book Of Embraces". She had made a fantastic bunch of collages to use in the album artwork, and the idea to animate them was an exciting one. We asked Carlos Coronado to work with us once again, and he picked up on the ideas and took them a whole other level, including the delightful animation of my own pen and ink transcription of the lyrics. Carlos also brought in more imagery, embracing a positive outlook toward aging and picking up on the humour of the song. He sweetly included a cameo of my grandmother at the end of the tune, youth transiting to old age. 
The influence of Jazz Manouche is very present on the upcoming String of Pearls album. While I've had a long-standing affinity for the music and relate to its inter-cultural cross-pollinations, as well as its sublime acoustic guitar technique, my own exploration was unleashed in earnest after co-producer Fernando Rosa in Montevideo brought in guitar player Federico Brann to sound out ideas on a song we were writing together.  This exciting tangent inspired me to connect with a community of players closer to home. Featured on this track are three fixtures of this community in Toronto – Debi Botos and Tak Arikushi on guitars and Rachel Melas on bass.  Tony Spina, my long-time Montreal drummer, helped push the rhythm into the impossible-not-to-move zone.
---